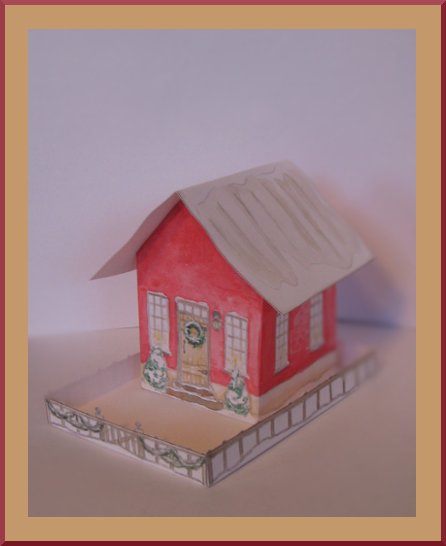 I'm not sure how long we stayed with Ma and Pa that time, not more than a few months I'm sure. We moved into a house in town that wasn't much more than a shed for a short time and then into a place I called The Little Red House. It had asphalt siding made to look like red bricks and it sat between the schoolhouse and The Big Red House where another bunch of cousins lived.
When we moved in, no one had lived there for more than a year. The place was surrounded with tall dead grass from the summer before and bright green short spring grass. The grass stood taller than my head and several of my older cousins took turns carrying me on their shoulders so I would not get lost in the undergrowth.
My father and uncles used brush whips and sickles to cut the grass short enough to use lawnmowers which my Uncle Ross, the father of Robert, Kay, Bud and Bill, brought over in a pickup truck. One was a gas-powered machine with two heads on a five-foot wide platform that he had borrowed from the church-owned cemetery across the road. It made an incredible racket which we little kids pretended was a monstrous giant from a fairy tale. The other two or three machines were reel-type push mowers and not so terrific for play-acting.
Uncle Ross also brought along my first dog, a white feist, or rat terrier, with one enormous black spot on its back. Naturally, the dog got named Spot after what he left in the kitchen floor.
That first day, Mom and my aunts cleaned the house with buckets of hot water and soap, exclaiming about spiders and worrying about snakes being driven indoors by the men cutting the grass. A railroad house it was called, kind of like a shotgun house except that the front and back doors did not line up so if you fired a shotgun in the front door it would hit a wall before it got to the back door. It had only three rooms and we lived there less than two years almost sixty years ago but I still remember it well.
All this while we lived with Ma and Pa and after we moved into The Little Red House, Daddy went to Cape Giradeau or Jonesboro or Memphis most weeks to work as a carpenter. He'd leave early Monday morning and get back late Friday night and he'd bring back the Sunday paper with him to look for work the following week.
If he worked somewhere close by, like Senath or Kennett, I'd go with him and sit and play with blocks while I watched him work. He'd even take me up on roofs with him, in a little playpen-platform he made that would perch on the comb of a roof. I would sit in the little platform for hours and use the wood blocks to tell stories about princesses and horses and friendly giants that were actually my Daddy's folding carpenter rule. Daddy hated for me to play with the rule he finally bought me one of my own, his was yellow and mine was white.
Daddy's brother, Uncle Virgil, with Aunt Eunice and my cousins Jimmy and Billy had moved into The Big Red House about a quarter-mile away. Aunt Eunice was pregnant and very ill so if I wasn't gone with Daddy on one of his jobs, Mom and I spent most of our time taking care of Jimmy, Billy and Aunt Eunice.
Around this time, I discovered comics. Daddy brought home the Sunday paper every week and I remember lying in the floor looking at the comics in the paper and begging someone to read them to me. Also, Jimmy, already in the second grade, had comic books — Donald Duck, Mickey Mouse, Joe Palooka, Superman, Archie, Little Audrey and Little Lulu — and would read them to Billy and me.
But the newspaper funnies my father brought home were my favorites. Maggie and Jiggs, Blondie with Cicero's Cat along the top, Thimble Theater with Popeye and O.G. Wottaschnozzle, the Cap'n and the Kids and all the other colorful adventures in the papers kept me enthralled even if no one would read them. I'd look at the pictures and make up my own stories.
I also got the Little Golden Books that were full of picture stories frequently. I had one I remember called Rootie Kazootie, Baseball Star. I had no idea that Rootie Kazootie was a television show. I'd never seen a television when I first got the book.
But what an exciting story the book told. Rootie was a pitcher for the Yankapups but the evil Poison Zanzaboo had stolen his Magic Kazootie, and kidnapped his girlfriend Polka Dottie too, and brought bad luck to the team. And they had to play the Dodgerooties in the World Series! How could they win without Polka Dottie to cheer them on and Rootie playing his Magic Kazootie to bring them luck?
Crisis was averted when it was discovered that Polka Dottie's little mouse friend, El Squeako, the famous catador, had a magic touch that took off jinxes. His plan foiled, Poison Zanzaboo gave back the Magic Kazootie and took Polka Dottie to the game where she could root for her boyfriend. Poor Zanzaboo had to sit there next to Polka Dottie and just boo while Polka Dottie and El Squeako cheered for the Yankapups, who naturally won.
I know I have misremembered the story because this whole book is online and you can find and read it too. If you look for the story, you'll see that Rootie Kazootie threw a mean knuckleball. But I like my version just as well, it's probably the one I made up before I could read the book!
Amazingly, the artist of that Little Golden Book is still alive in 2011. His name is Mel Crawford and for the last forty years he's drawn for Sesame Street, among other things. You could look him up, as they say in baseball.
Because of Rootie Kazootie, for a long time I thought the World Series was a game played every year in New York between the Yankees and Dodgers. And for three out of four of those years, it was; the one exception being when the Giants took the Dodgers place. I was really excited in 1956 when the evil Dodgerooties decided to move to California to where we had just moved back to, though I would have rather it had been the good guy Yankapups.